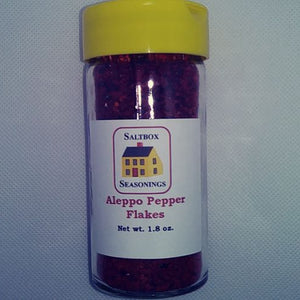 Saltbox Seasonings
Aleppo Chile Pepper Flakes
Regular price
$7.00
$0.00
Aleppo Chile Pepper is so flavorful! Its flavor is similar to ancho chile pepper with bright,  fruity and mild cumin-like undertones. It's a bit moister and ever-so-slightly salty because salt often is part of the roasting and drying process.  
This lovely pepper is a flavor enhancer with a rich burgundy color, a slow-building and earthy heat, and a really savory finish like sun-dried tomatoes. Aleppo Chile Pepper rocks in at about 8,000 Scoville units. That's about half as hot as the crushed red pepper flakes sprinkled on pizza. 
Because Aleppo Chile Pepper is a common Middle Eastern condiment, it's traditionally used to season meat, beans, salads and dips. It also can be used like other dried red pepper.  
For a fun salt-and-pepper blend, try our Aleppo Pepper Salt Blend.
---
More from this collection