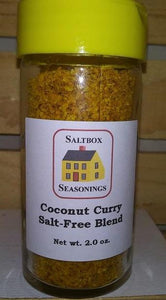 Saltbox Seasonings
Coconut Curry Salt-Free Blend
Regular price
$7.00
$0.00
Our Coconut Curry Salt-Free Seasoning is our milder recipe of classic curry ingredients: Coriander, turmeric, mustard, cumin, cinnamon, cardamom, fenugreek, red pepper, ginger and black pepper blended with unsweetened coconut.
It's kind of additive and quite delicious over rice and vegetables, in stir fry dishes, and as a coating for fish, shrimp, chicken and pork.
Check out our Lori's Organic Corn Meal "Curry It Up!" coating mix for a healthy and creative bake and fry coating.
---
More from this collection