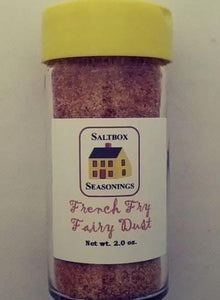 Saltbox Seasonings
French Fry Fairy Dust
Regular price
$7.00
$0.00
You'll sprinkle this fun seasoning on everything from fries and baked potatoes to popcorn, veggies, meats, and especially chicken wings.
Our inspiration was to create an all-purpose seasoned salt for a summer Renaissance Faire -- hence the name! The result is an addictive blend that you'll want to put on absolutely everything. It was so popular that we decided to offer it year 'round.
Our Fairy Dust blends garlic, onion, sea salt, sweet paprika and white pepper. Try it on homemade air fryer chips and tater tots!
---
More from this collection