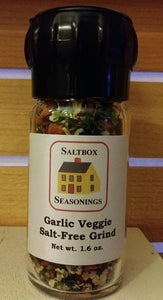 Saltbox Seasonings
Garlic Veggie Salt-Free Grind
Regular price
$7.00
$0.00
Looking for an all-purpose salt-free garlic seasoning? Here it is for your soups, stews, veggies, chicken, fish, salads -- anything where you want to add a mild yet flavorful addition to your food. This one is a customer favorite since we introduced it.
We combine minced garlic, carrots, onion flakes, tomatoes, parsley, spinach, red and green bell peppers, celery and lemon peel for a unique and delicious flavor boost that you grind out fresh each time.
For an all-onion-no-garlic salt-free seasoning, try our Onion Veggie Salt-Free Grind. It's the same great veggie seasoning but with only onion added.
---
More from this collection