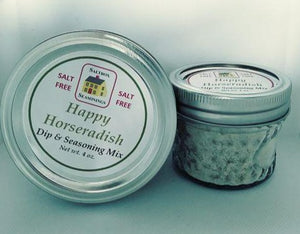 Saltbox Seasonings
Happy Horseradish Salt-Free Dip & Dressing Mix
Regular price
$5.00
$0.00
Our customers asked us to make our version of a savory horseradish dip and sauce mix. We love it as a dip AND also as a sauce over a great steak or a baked potato or mixed into potato salad. We blend onion, dill, horseradish, leeks, chives, lemon peel and pepper into a delicious salt-free blend. You can add your own choice of salt to taste. We recommend pink Himalayan salt or pure sea salt. 
Dip: Mix 2 TB with 1 cup sour cream or yogurt. Chill 1 hour before serving. Adjust as needed.
Horseradish Dressing for steak, fish & veggies: Start with the dip recipe. Add milk, almond or soy milk, sour cream or yogurt until it reaches the consistency you like.
---
More from this collection