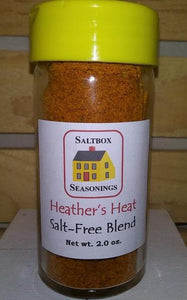 Saltbox Seasonings
Heather's Heat Salt-Free Seasoning
Regular price
$7.00
$0.00
Heather is an actual customer and we made this blend just for her. She came to us one day at a local farmers market with a list of mindful ingredients and requested a customized  seasoning blend to support anti-inflammation and as a digestive aid. We make her namesake blend from garlic, smoked hot paprika, turmeric, ginger, cayenne, rosemary and lime. 
We created Heather's Heat and have been making it ever since for all of our customers. They use it on everything from breakfast eggs to veggies to steaks and burgers. Try it in soups, sauces and stews. 
Start out in small doses -- it packs a bit of heat and we don't think you'll miss the salt!
---
More from this collection