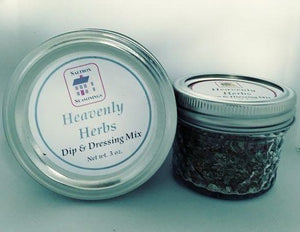 Saltbox Seasonings
Heavenly Herbs Salt-Free Dip & Dressing Mix
Regular price
$5.00
$0.00
This is the salt-free version of our popular Heavenly Herbs Dip & Salad Dressing Mix. It's a mild and very flavorful blend of herbs and red bell pepper -- but no salt! We make it with basil, parsley, garlic, thyme, red bell pepper, oregano, black pepper and rosemary. It's great as a dip mix, as a salad dressing mix and as a marinade mixed with olive oil. Try it on pizza, pasta, vegetables and salads!
Dips:  Mix 2 TB with 1 Cup of sour cream or yogurt. Adjust to taste. Allow to blend for 30 minutes before serving. 
Salad Dressing:  Mix, to taste, with 8 oz. olive oil & vinegar. Adjust olive oil & vinegar ratio to suit your own tastes.
Marinade:  Mix 1 TB with ½ Cup Oil. Rub into meat or seafood before grilling, roasting or frying. Add to your favorite bread crumbs for a delicious coating for chicken, pork and fish.
---
More from this collection