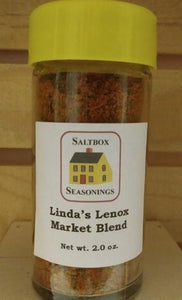 Saltbox Seasonings
Linda's Lenox Market Blend
Regular price
$7.00
$0.00
Linda is an actual customer from another local farmer's market who liked our Heather's Heat Blend. She asked us to make a different version just for her that had included cumin, a little less heat, and a bit of sea salt. Linda's Lenox Market Blend was born!
It's wonderful all-around seasoning with a little bit of kick that you'll put on everything from your breakfast eggs to grilled steak.
To make this delicious blend, we blend smoked sweet paprika, garlic, turmeric, basil, cumin, ginger, black pepper, pink Himalayan sea salt, kaffir lime.
---
More from this collection