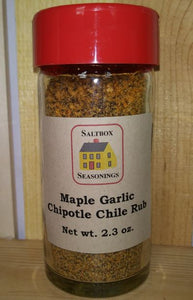 Saltbox Seasonings
Maple Garlic Chipotle Chile Rub
Regular price
$7.00
$0.00
So we're based in New England, specifically Western Massachusetts. That means that we'll find lots of reasons to add a premium Berkshire Mountain Foothills maple sugar that's certified organic to our rubs.
We add roasted garlic, onion, chipotle chile pepper, smoky morita chile pepper, coriander, sweet and tart tamarind, pink Himalayan salt, and a dash of cumin. 
Rub this blend on your meats and sprinkle on salmon, shrimp. It's really yummy on chicken breasts, thighs and wings.
---
More from this collection