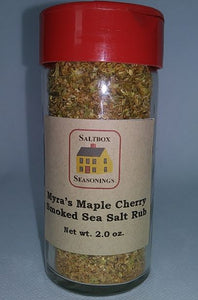 Saltbox Seasonings
Myra's Maple Cherry Smoked Sea Salt Rub
Regular price
$7.00
$0.00
We like to name our blends after the customers who suggest them. It connects us to our customers and is a fun way to name new products. This is one of them. Myra is a friend's mom and a great customer who inspired this smoked salt and maple sugar rub. Sweet and salty -- a favorite combination! The maple sugar caramelizes nicely whether you're grilling, smoking or roasting. 
We made this blend for Myra and now for everyone else from premium Windsor Hill Sugar House maple sugar, pink Himalayan salt, and light and fruity cherry wood smoked sea salt. 
It's not just for meats. Try it over baked potatoes, sweet potato fries, popcorn, corn-on-the-cob, and even vanilla ice cream. Sprinkle it over homemade brownies and chocolates. 
---
More from this collection