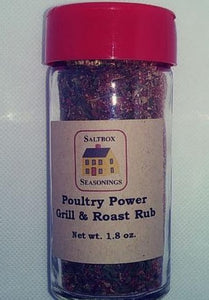 Saltbox Seasonings
Poultry Power Grill & Roast Rub
Regular price
$7.00
$0.00
Power to the poultry!  And to the potatoes, too!
We love this garlic, onion and herbs blend for all of the right reasons: It tastes great as a rub or as a seasoning on chicken and other meats. Try it on cauliflower, potatoes, and other veggies.
We blend parsley, sweet paprika, garlic, onion, sage, thyme, red bell pepper, celery, rosemary, black pepper, marjoram, and a touch of pink Himalayan salt.
---
More from this collection