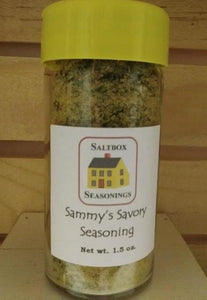 Saltbox Seasonings
Sammy's Savory Seasoning
Regular price
$7.00
$0.00
Sammy's Savory was our very first savory blend -- and it started out as a popcorn seasoning. We modified it a bit and introduced it as an all-purpose seasoning, and our customers love it. In fact, our customers on salt-restricted diets asked for their own version -- and of course we were delighted to create it. Both are some of our bestsellers! 
We make it with parsley, savory, garlic, onion, celery seed, thyme, marjoram, black pepper, turmeric, ground sage, and a touch of pink Himalayan salt.
Because of the savory, celery and sage, it's especially great on poultry. Go ahead and try it on veggies, omelettes, tofu, and red meats, too.
So who's Sammy? Well, he's one of our cats. He kept us company when we were mixing and taste-testing the final recipe. It makes for a catchy name!
---
More from this collection