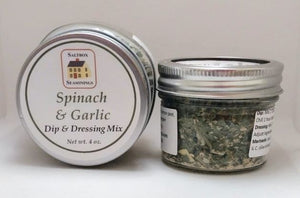 Saltbox Seasonings
Spinach & Garlic Dip & Dressing Mix
Regular price
$5.00
$0.00
Thank you to the customer who asked us to create our Spinach & Garlic Dip Mix! We hand-blend each lightly salted small batch with dried spinach leaves, garlic, leeks, lemon peel, pink Himalayan salt and a touch of white pepper. 
Try this delicious dip with seafood and chicken dishes, salads, veggies and soups. Use it as a marinade on salmon and other fish, shrimp and meats. Mix it into tuna salad, egg salad and potato salad.
Salad Dressing:  Mix 2 TB with 8 oz. olive oil & vinegar. Adjust to taste.
Dips:  Mix 2 TB with 1 Cup sour cream or yogurt. Allow to blend for 30 minutes before serving. 
Marinade:  Mix one (1) TB with ½ cup of olive oil. Rub into meat or seafood before grilling, roasting or frying.
---
More from this collection