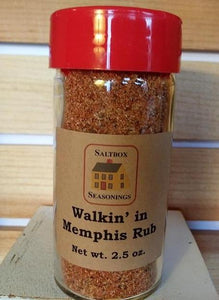 Saltbox Seasonings
Walkin' in Memphis BBQ Rub
Regular price
$7.00
$0.00
Walkin' in Memphis is our very first rub! The inspiration for the name was threefold:
- The song, of course, because it's a classic Memphis-style rub
- My literal on-the-ground research in Memphis BBQ joints during a lengthy business trip to this BBQ mecca
- The soon-to-happen exit -- finally! -- from three decades of corporate work life to start Saltbox Seasonings. 
Our blend has the classic sweet-smoke-heat ingredients we love about the Memphis 'Q style. The rub has an approachable kick and satisfying flavor depth. Line up your chicken, pork ribs, fish, shrimp, tofu, burgers and bacon for this flavor boost.  You'll taste brown sugar with pure can sugar, sweet smoked paprika, Spanish paprika, garlic, onion, red chile pepper, applewood smoked sea salt, black pepper, white pepper and a dash of mustard powder.
---
More from this collection